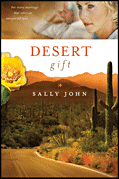 "Desert Gift" by Sally John is a really great fiction book about marriage. The book's main character, Jill, is a syndicated talk radio show host and has just released her first book. Both the talk show and the book are on her insights and "rules" for a good marriage, which she thought she had. However, as she was leaving to go on a publicity tour for her book, her husband dropped a bombshell on her – he wanted a divorce.
Jill then spent some time reflecting on her life and her marriage, trying to figure out what went wrong. Through this process, she discovered a lot about herself – and it wasn't all good. But, with help from her friends, sister, parents, and above all else, God, she sorted through everything, thought of ways to become a better wife and friend for her husband, and eventually worked things out.
I really enjoyed this book, it was hard to put down when I was reading it. It is a fiction book, but there are a lot of insights to gain about marriage by reading this book…I know that throughout the book I found myself digging deep down inside of myself to see where I could improve at being a wife. And just like Jill discovered, God is always there to help us when we ask Him.
Disclosure of Material Connection: Tyndale House Publishers provided me with a complimentary copy of this book. I was not required to write a positive review. The opinions I have expressed are my own. I am disclosing this in accordance with the Federal Trade Commission's
16 CFR, Part 255
: "Guides Concerning the Use of Endorsements and Testimonials in Advertising."

**Link is an Amazon affiliate link**