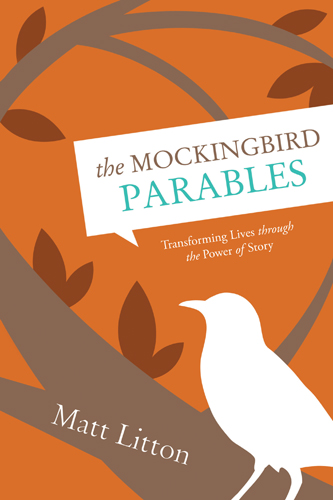 The Mockingbird Parables: Transforming Lives through the Power of Story by Matt Litton is based on the characters and events from the book "To Kill a Mockingbird" by Harper Lee. I must start off saying that I highly recommend this book! When I first started reading, I wasn't sure if I would have to read "To Kill a Mockingbird" (since I haven't read the book in a long time), but I soon realized that there was no need.
The author uses "parables" (i.e. short parts of the story) from "To Kill a Mockingbird" along with his own life stories and relates these parables to passages from the Bible, and in doing so, makes some good, down-to-earth points that everyone can relate to and think about. The main points of the book are loving our neighbors, building community, influencing society, having compassion, and being a good Christian (from the Bible's standpoint – not the world's.) Each chapter is broken down into smaller parts that are all based on the same theme.
Matt Litton uses short, yet to-the-point, stories about different aspects of Christ-like attitudes and behaviors that we should all strive to possess. I personally believe that everyone who reads this book will be able to find numerous aspects in their own lives that could use a little work, and be able to think of ways to make themselves more Christ-like.
This book is a great book, and I think it would make a good small group Bible study, also. (At the back of the book, there are a few questions to go along with each of the chapters.) The only things that I would change about the book are: add a few more Bible verses – and remove the word "freaking" (I personally don't feel it belongs in a Christian-themed book.)
Disclosure of Material Connection: Tyndale House Publishers provided me with a complimentary copy of this book. I was not required to write a positive review. The opinions I have expressed are my own. I am disclosing this in accordance with the Federal Trade Commission's 16 CFR, Part 255 : "Guides Concerning the Use of Endorsements and Testimonials in Advertising."

**Link is an Amazon affiliate link**